Our Story
The Beginning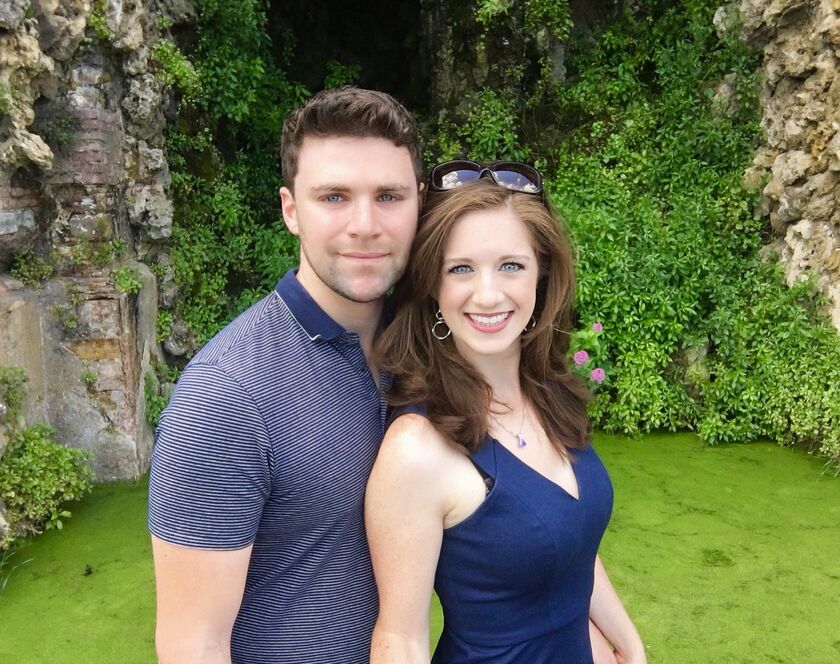 Stephanie and Zac met on Sunday, December 17, 2017 for frozen margaritas and tacos (Stephanie's favorite) at Tacolicious in North Beach, San Francisco. One margarita turned into two, two turned into dinner, and eight hours later, they ended the night knowing that this first date was unique. Four days later, Zac took Stephanie out to a romantic French restaurant (Zac's favorite), and he invited Stephanie to come with him to Southern Italy for two weeks together in May. He told her that "Moonlit evenings on the Amalfi Coast and real pizza awaits you." The cheesy line worked, and they have been inseparable ever since!
(Pictured in Rome in May 2018)
The Proposal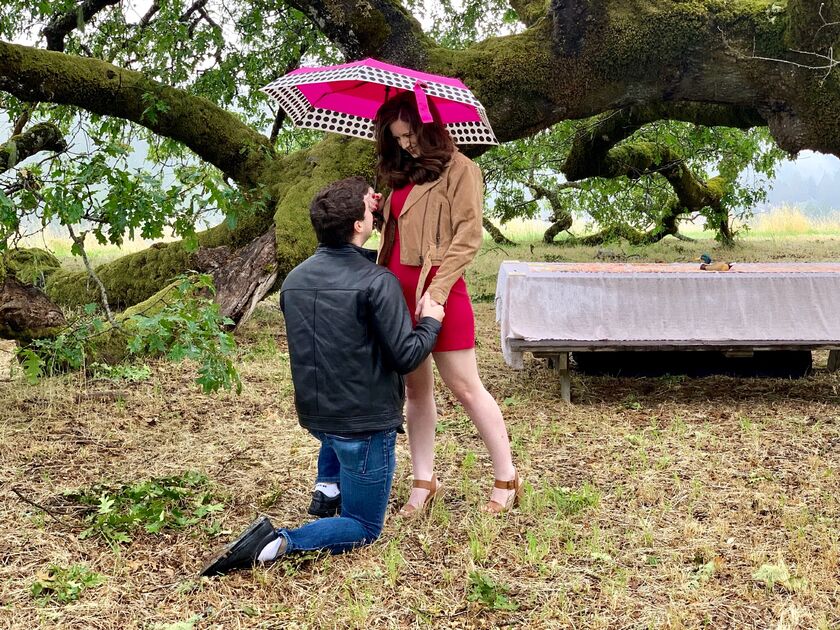 Over Memorial Day Weekend in 2019, Zac planned a surprise weekend trip up to Mendocino County to go wine tasting in Anderson Valley, which is known for growing great Pinot Noir grapes (Stephanie and Zac's favorite wine!). They stayed at a beautiful suite at the Heritage House Resort & Spa, overlooking the Pacific Ocean, and had a private driver to pick them up each day to drive them over to wine country in Philo, CA. On the morning of Sunday, May 26, 2019, Zac had a private estate tour of Goldeneye Winery planned. It was drizzling rain ever so slightly and towards the end of the winery tour in the Goldeneye Winery SUV, the driver began heading up a steep, muddy hill. At the top of the hill was a giant, 500 year old oak tree and sweeping views of Anderson Valley. Stephanie and Zac got out of the car to look at the view and Zac got down on one knee!
The Wedding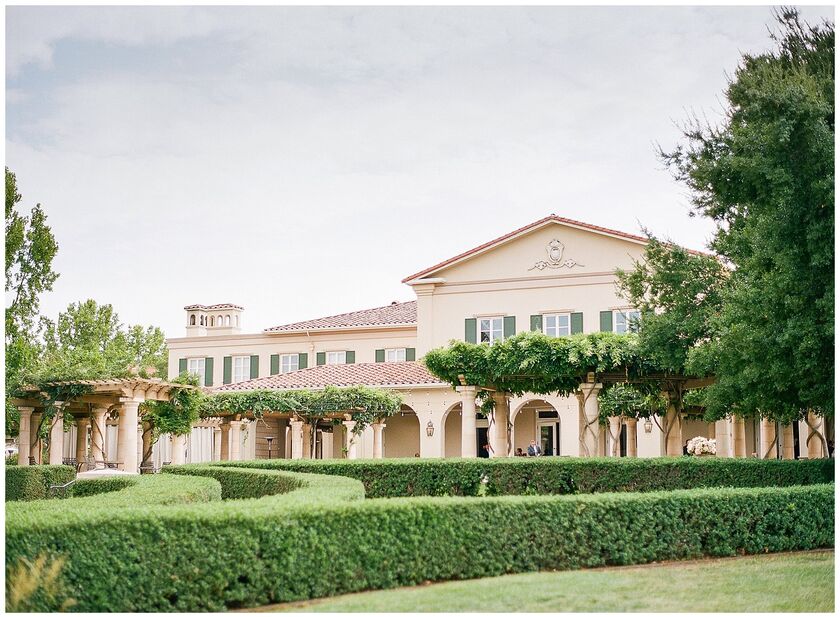 Attire: Cocktail Attire
Ceremony and Reception
The Club at Ruby Hill
3400 West Ruby Hill Drive, Pleasanton, CA, 94566
Ceremony Starts Promptly at 5:00PM ●  Dinner, Drinks, and Dancing to Follow Guest transportation shuttles will be provided, leaving at 4:00pm, from the Marriott Pleasanton to The Club at Ruby Hill. Return transportation will be provided at 11:00pm back to the Marriott Pleasanton. If you would prefer to drive, there is parking at the wedding venue or Uber/ Lyft is available. Please note that it takes 20-30 minutes to order an Uber/Lyft for pick-up and then it is a 25-30 minute drive. Please plan to leave no later than 4:15pm for an on-time arrival for the 5:00pm ceremony. Please join Stephanie and Zac in an "unplugged" ceremony. Please keep your cameras and phones turned off and tucked away until after the ceremony is over. The couple promises to share photos from the photographer following the wedding!  Stephanie and Zac can't wait to share this special day with you!
Wedding Party
Mira Chaykin - Maid of Honor
Stephanie and Mira met on Super Bowl Sunday 2009 and instantly became the best of friends. Mira has been there throughout all of Stephanie's firsts (including buying Stephanie's very first keychain for her car keys after Stephanie passed her Driver's License test on her 16th birthday) in high school and college and have remained the closest of friends into adulthood.
Jamie Garrison - Bridesmaid
Jamie and Stephanie met while in graduate school at Georgetown University. They became close while trapped together underground in the Medical School building (with no cellular service), and despite living on opposite coasts, still talk/text almost daily and make trips to visit each other several times a year.
Bridget Lapin - Bridesmaid
Bridget and Stephanie met while Stephanie pretended to be mildly athletic on a recreational sports league in San Francisco, CA (Bridget was much more coordinated). They bonded over many bottles of wine, spontaneous trips to Los Angeles, CA and Breckenridge, CO, and nights out in San Francisco together.
Ashley Maureen - Bridesmaid
Ashley (otherwise forever known as Ashley Pashley) is Stephanie's cousin. Stephanie and Ashley have fun memories running around their grandparents' house, hanging out at the "kids' table" during holidays, and growing up together.
Kelsie Worthington - Bridesmaid
Kelsie is Zac's little sister and will be one of the bridesmaids at Stephanie and Zac's wedding! Stephanie, Zac, and Kelsie have bonded over fun nights in San Francisco at Giant's games and late-night margaritas in Oregon together.
Taylor Pulbrook - Best Man
Zac and Taylor became close friends in high school while both nerding out on the academic decathlon team. They serendipitously both moved up to the Bay Area from SoCal for work and have remained the best of bros. You can usually find them spending time together in San Francisco drinking beer from 1-2 Liter Boot mugs at the local German bar.
Edgar Aguilar - Groomsman
Zac and Edgar met at USC while Zac was crashing the Theater School orientation party, where they then hung out daily from thereon. Ever since, Zac has taken many trips to visit Edgar's family in Mexico, and Edgar has become an unofficial member of Zac's family at all holiday get-togethers.
Don Moore - Groomsman
Zac and Donnie's first time speaking to each other was actually not in person, but over Xbox Live after an intro from a mutual friend, back in the "glory days" of high school Halo Xbox sessions. Zac and Donnie still see each other several times a year when Zac returns home on his quarterly pilgrimage to Southern California.
Ryan Worthington - Groomsman
Ryan is Zac's little brother. Although they are over 10 years' apart in age, they talk on the phone almost every day! Zac and Ryan spend time together bonding over triumphs and losses while playing their Xbox FIFA soccer video game.
Eric LaBouve - Groomsman
Eric is Stephanie's little brother and will be one of the groomsmen at Stephanie and Zac's wedding. Zac and Eric bonded over many drunken shenanigans and pestering Stephanie together in Cabo San Lucas and at their house. Eric lived only 1 mile away from Stephanie and Zac in San Francisco and now lives less than 10 minutes away from Stephanie and Zac in San Diego and can be found watching football and TV on their couch most weekends.